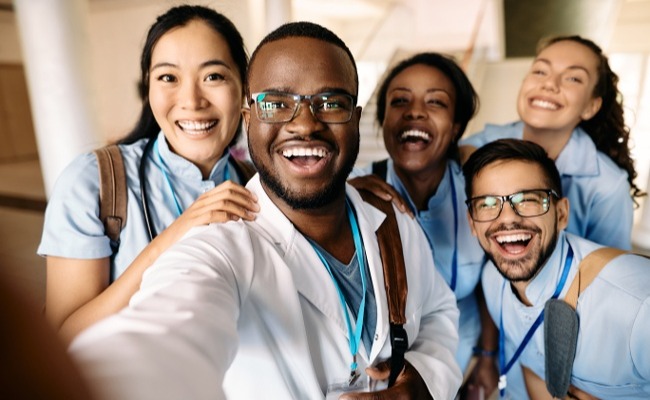 School of Pharmacy
Begin your pharmacy career here.
No matter where you're at in your journey, Concordia University Wisconsin's School of Pharmacy has options for you. Our nationally accredited PharmD program will build your pharmacy knowledge and patient care skills to prepare you for a career in healthcare.
Our manageable program gives you the opportunity to participate in cutting-edge research and real-life experiences at both the undergraduate and graduate levels. Our private university with small class sizes creates an enriching student experience for you with dedicated pharmacy faculty who care about you personally and holistically.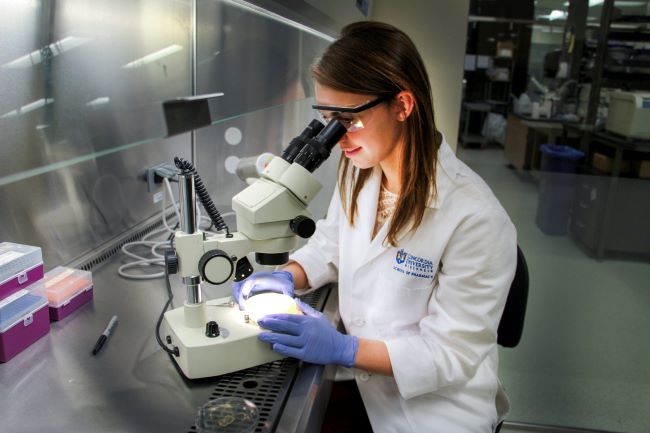 Doctor of Pharmacy - PharmD Program
Our award-winning PharmD program will set you apart in the world of healthcare with a holistic foundation focusing on patient care, teamwork, knowledge, and servant-leadership.

Our student-centered approach means your education and experience come first. Small class sizes allow for personalized attention from experienced faculty, and our hands-on approach puts you in the driver's seat in our state-of-the-art pharmaceutical facilities.

The best part? Concordia's accredited PharmD program allows you to pursue licensure anywhere in the United States and provides you with plenty of networking opportunities, so you'll graduate prepared for an immediate impact in the field.
Find the information you need
We're here to help you discover your future
Learn outside the classroom
Building a Pharmacy Network
Our location near Milwaukee, WI is optimal for your pharmacy practice experiences as it provides the opportunity to experience urban and rural healthcare settings. You will learn from preceptors that serve in specialized areas of pharmacy. Student groups and volunteer opportunities will introduce you to more pharmacy-related activities.
exceeds national average
Pharmacy Residency Match Rates
88% of our PharmD 2022 graduates entering PGY-1 (postgraduate year one) were matched with their top choice for residency. A 9TH BEST MATCH RATE FOR U.S. PHARMACY SCHOOLS.
Tests clinical knowledge
North American Pharmacist Licensure Examination (naplex)
Our 2022 PharmD graduates scored in the Top 25% of the all pharmacy schools nationally.
succeed in our pharmD program
transfer-friendly program
Concordia's pharmacy school accepts advanced standing or transfer of PharmD credits into our program. Up to 74 credits of coursework are eligible to be reviewed for advanced standing. Experience a program focused on balance, your goals, and flexibility.
Funding your education
Concordia's payment plan allows you to break tuition into automatic monthly payments
Scholarships and financial aid are available for qualifying students.
Pharmacy Scholarships
Students that are eligible can earn an academic merit scholarship for up to $14,000.
Students are eligible for scholarships with varying criteria for up to $10,000.
Earn your master's degree and your Doctorate in Pharmacy
Master's of Public Health (MPH) + PharmD
Medication Safety and Pharmacovigilance concentration
The MPH program is a 100% online. Prevention and health equity are the core principles of public health. With your clinical expertise as a PharmD, you can help improve health and well-being at a population level with this dual-degree.
Apply prior to starting your 1st year of pharmacy school. Earn you MPH credits while you are a student in pharmacy school, or complete the public health credits after you have earned your PharmD.
This is a (39) credit dual-degree program.
(12) credits apply to your PharmD (148 credits) and your MPH
(27) credits apply to your MPH
Master's of Business Administration (MBA) + PharmD
Select a concentration of your choice
The MBA program is flexible and can be taken online or in-person. The business curriculum provides a strong foundation to use quantitative and qualitative data to be an effective decision maker, strategist, and leader.
Apply prior to starting your 1st year of pharmacy school. Earn you MBA credits while you are a student in pharmacy school.
This is a (36) credit dual-degree program.
(16) credits apply to your PharmD (148 credits) and your MBA
(30) credits apply to your MBA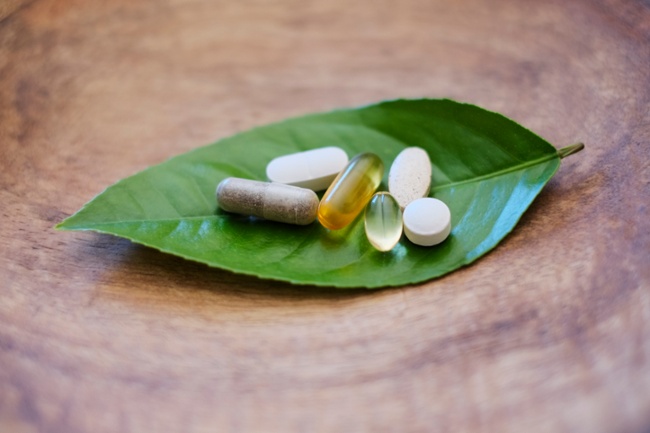 Online master's in natural products science
Build the skills and knowledge to evaluate the safety and efficacy of naturally sourced products for use by patients and consumers. Explore the source, identification, characterization, pharmacology, and development of products from natural sources. From natural medicines and herbal supplements to other naturally-derived ingredients, you will become a trusted leader in this emerging industry.
Choose from one of two concentrations to help enhance your career and expertise. Learn more about this innovative program.
Medical Cannabis Concentration
Nutraceuticals Concentration