Online DBA program
The challenges facing the business world are numerous and complex, but they aren't impossible to overcome. Concordia's online DBA program will transform your leadership skills, empowering you holistically. You will graduate ready to address challenges head-on, rooted in integrity, vigor, and passion.
Choose from one of our four concentration areas to step forward in your calling and career:
Business Sustainability
Financial & Economic Management
Healthcare Administration
Organization Change & Performance
Customizable
Four distinct concentrations to customize your degree to transform your leadership and career.
Accelerated
Graduate in just 3-years with accelerated 8-week courses. Do you have transfer credits or completed ABD at another university? Learn about our transfer policy!
Personal
Our unique cohort model enables you to get to know your classmates, professors, and dissertation chair. From the moment you request more information, you'll feel connected and supported at Concordia.
Get the information you need
We're here to help you discover your future
Online
Fully online courses with two short residencies, one at the beginning and one at the end of your program, enabling you to meet your cohort & professors
Dissertation
You'll be assigned a dissertation chair committed to helping you break your dissertation down into digestible pieces so it doesn't seem so overwhelming.
Online DBA concentrations
Credit breakdown
Year 1
Required Courses
Credits
Introduction to Scholarship
3
Organization Learning, Performance, & Change
3
Concentration Course
3
Dissertation Seminar & Advising
1
Statistics for Research
1
Quantitative Research Design
3
Concentration Course
3
Dissertation Seminar & Advising
1
Total Credits 20
Year 2
Required Courses
Credits
Innovative & Entrepreneurial Leadership
3
Scholarship Inquiry
3
Qualitative Research Design
3
Dissertation Seminar & Advising
1
Doctoral Research & Writing I
3
Concentration Course
3
Doctoral Research & Writing II
3
Dissertation Seminar & Advising
1
Total Credits 20
Year 3
Required Courses
Credits
Doctoral Research & Writing III
3
Concentration Course
3
Servant & Ethical Leadership
3
Dissertation Seminar & Advising
1
Business Intelligence & Predictive Analytics
3
Quantitative Business, Quality Management & Productivity
3
Dissertation Seminar & Advising
1
Dissertation DBA Capstone
3
Total Credits 20
What makes us different?
At Concordia, we understand obtaining your doctorate is no small feat. It's impossible to go at it alone, which is exactly why we are committed to supporting you no matter where you're at in your doctoral journey. From the moment you request information, throughout enrollment and your dissertation, you'll have someone with you every step of the way.
Our unique cohort style enables you to meet your professors and classmates and wrap up at a short 3-day residency at the beginning and end of your DBA program.
You'll feel connected and supported during your time at Concordia, and you'll graduate with a diverse network of cross-sector professionals.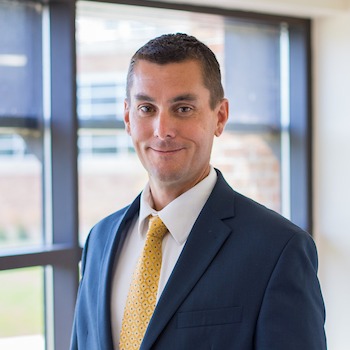 Our program will prepare Christian leaders to make data-informed decisions through the study of real-world business and organizational trends. We will address not only quantitative business concepts but qualitative concepts as well. Our doctorate is much more balanced. The qualitative aspect of teaching the human element and a holistic approach sets us apart from other schools.
Tuition Deposit
$250
Cost Per Credit
$867
Funding your DBA
Concordia's payment plan allows you to break tuition into automatic monthly payments
Scholarships and financial aid are available for qualifying students.
Learn more about what our students are saying
On-demand DBA webinars
Learn about our new program director, the curriculum structure, new concentrations, dissertation, admissions process & more
Frequently asked questions
The dissertation will typically range from 100 - 300 pages, it depends on your research topic and how you plan the study. The dissertation is divided up into five chapters. Intro, literature review, research methods, results, and discussion. You will walk with your faculty advisor to plan every step of your dissertation, so it's not a daunting project.
To be admitted into the DBA program, applicants must:
No GMAT or GRE required
Master's degree with a focus in business or another relevant degree from a regionally accredited institution
Obtained a minimum 3.0 GPA on a 4.0 scale
Submit official transcripts from undergraduate and graduate coursework.
Provide supporting evidence that you have completed an intermediate-level statistics course (MBA 510 or equivalent), or have equivalent work experience.
Submit a resume or CV, and a list of references.
Option to participate in a video-conference interview.
Applicants for whom English is a second language must provide English proficiency.
Admission to the DBA program is governed by policies and procedures developed by the Batterman School of Business and Concordia University of Wisconsin. The University reserves the right to refuse admission or readmission to any prospective study or re-enrollment to any student. Any applicant who intentionally withholds pertinent information or falsifies information may be required to withdraw from Concordia University. The University and the Batterman School of Business reserve the right to make necessary changes to admission requirements without notice.
The DBA is a competitive admissions process. Meeting the minimum requirements does not guarantee acceptance into the DBA program. Concordia University of Wisconsin and the Batterman School of Business may request additional documentation to evaluate a candidate's record before a final admissions decision can be made.