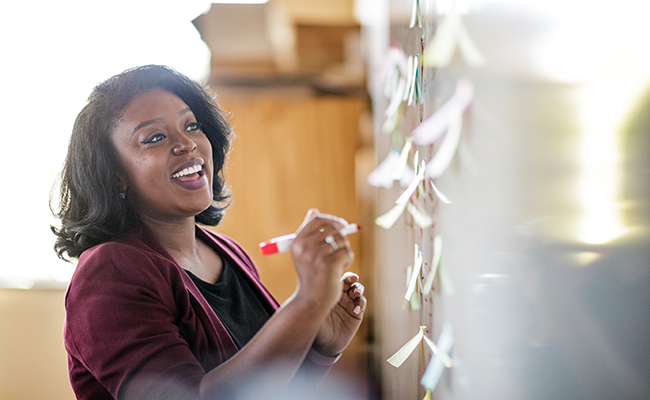 Earn a graduate degree in business - and much more!
Year after year, Concordia University Wisconsin has consistently been top-ranked nationally for its quality and value. Our business programs span a variety of fields, levels, and formats, so you can pursue the perfect degree on a schedule that works for you to continue building the career of your dreams.

But we're more than just education. At Concordia, you get access to our tight-knit community of professors, staff, and students who will pour into you, provide uncommon support, and help you develop in mind, body, and spirit. You'll leave with more than a degree, equipped to make a true impact in your area of the world.
Graduate Business Degrees
Program Overview
The Doctor of Business Administration (DBA) is the highest accredited academic business degree at Concordia University designed to address the current challenges facing companies, leaders, and teams in today's business environment. Students will develop scholar-practitioner skills as they learn from industry experts skilled in blending applied learning with theory development. Students will leave the program equipped with the tools, experience, and knowledge to transform organizations and improve performance through grounded research methods.
The DBA is a perfect next educational step for students who already possess an MBA or a Master in Organizational Leadership degree, especially organizational managers seeking to advance their careers by developing an ability for advanced critical reasoning.
Concentrations
This three-year, 60-credit (minimum), low-residency program features three distinct concentrations for students:
Financial and Economic Management

Organizational Change and Performance

Healthcare Administration
Regardless of concentration, students will benefit from the unique holistic approach that the program takes in addressing and teaching both quantitative and qualitative business concepts. Throughout the coursework, students will acquire evidence-based decision-making skills to prepare them for effective leadership in business, healthcare, non-profit, education, government, and other professional industries.
Program overview
Every business needs leaders who can simultaneously manage large-scale projects and the diverse groups of people working on them. Our fully online MBA program will help you develop leadership expertise, keeping in mind that business is really about the impact you make on those you serve and lead.
We will prepare you for a life that defines success measured by personal fulfillment, all while maintaining the bottom line. With 14 MBA concentrations offered online, this flexible program is founded on our mission to provide a holistic, practical, Christ-centered education.
Credit Breakdown
Complete your 36 credit MBA in just over 18 months. Below is a breakdown of the program:
15 credits = Core

Five courses that lay the foundation. Topics include ethical leadership, decision-making, people-focused management, driving business growth and economics.

12 credits = Concentration Electives

Four courses in your chosen concentration.

6 credits = Experiential Learning

Two courses ranging from study abroad, seminar series, intraship and more flexible options for working adults.

3 credits = Capstone

One course that ties your MBA experience together
Concentrations
Choose from these areas to personalize your experience:
accounting

communications and public relations

finance

healthcare administration

human resource management

innovation and entrepreneurship

leadership

management

management information systems (STEM)

nonprofit management and

public administration

research for business applications (STEM)

sport and entertainment business

strategic marketing

sustainability management and analytics
Program Overview
The Master of Science in Accountancy program will prepare you for the rigors of a career in public accounting in just 12 months with 100% online courses. As a graduate, you will have expertise in financial accounting, taxation, auditing, and analytics and will evaluate difficult ethical decisions with a Christian perspective. The curriculum is aligned to the CPA evolution model curriculum and will prepare you to sit for the four parts of the CPA exam.
Program highlights
This program focuses on your goal to become Certified Public Accountants. CPA exam review content is embedded in the courses in order to prepare you for the skills needed to be successful on the exam and in the profession. You will also select a concentration area that will align with your chosen elective portion of the CPA exam, where you will deepen your expertise in the area that best aligns with your professional interests. Courses are scheduled in 8 week terms and students are encouraged to sit for the CPA exam section immediately following the relevant coursework in each term.
Concentrations include:
Business Analysis and Reporting
Information Systems & Controls
Tax Compliance & Planning
Program Overview
This online Master of Science in Business Analytics program will prepare you to effectively analyze business data and successfully present information to inform strategic decision-making. The curriculum requires you to evaluate the value of business analytics and the ethical use of data through a Christian lens and consider bias/fairness issues when analyzing data for real-world applications.
Program highlights
In this program, you will focus on applied business analytics, rather than a purely data analytics focus. The five concentrations also allow you to apply analytical concepts to your chosen area of expertise.
Concentrations include:
Finance & Accounting
Information Systems
Management
Human Resources
Marketing
The program will culminate in a final capstone course where you'll work on a large analytics project in your area of expertise. Through an overview course, you'll learn the basics of programming, coding and database applications. In your following courses, you'll focus on how to apply these analytics skills to business decisions. Although you'll learn about the 'back end' of data, this program is geared towards the 'front end' users of data. You'll graduate from this program able to explain complex results and insights to move your organization forward.
Program Overview
Inspiring change and cooperation in an organization requires an intuitive team leader, equipped with the abilities, knowledge and skills needed to create and maximize the benefits of a motivated work environment. The result: strong group identity built on commitment and trust.
This fully online Master of Science in leadership (MSL) empowers you to develop the qualities and traits of a transformative leader. Graduates reflect Christian leadership values that empower today's minds to transform today's world.
Research Project
Your time at Concordia will end with a graduate research project (three credits). You will dedicate your time to a topic of interest for your career progression. Submit a prospectus including a timeline to finalize the project and complete a project defense. Our faculty are dedicated to your success, so during this research project you'll have the opportunity to meet with and receive feedback from a professor of your choosing.
Program Highlights
No GMAT or GRE required
IACBE accredited
Courses offered

fully online

Faculty are active, practicing execs and professionals

Top-ranked nationally for both its quality and affordability

Online Student Success Advisors will walk with you through every step of your educational journey
Vibrant and

supportive online community

Learn more about the program and how to chose between an MBA and MSL degree in this webinar
Program Overview
Born out of extensive collaboration with industry partners, our MPD program will give you hands-on and industry-relevant experience taught by experts in the field. This is the only degree of its kind. Graduates are prepared to fill an unmet need and become future leaders in the product development industry. 100% of our graduates are employed after graduation!
Program Highlights
Many classes offered online, allowing flexibility for students that have full time jobs. The MPD program is unique in that it provides training in the technical aspects of product development (Pharmaceutical, Chemical and Food), but also trains you on the business, legal and regulatory aspects of product development. Thus, it provides a well-rounded training for careers in industry.
MPD degree options:
Chemical

Food & Beverage

Pharmaceutical
Program Overview
Have you started your doctorate but life got in the way? Completed course work, but never finished your dissertation? Our new program provides an opportunity for students who have completed all requirements for a doctorate at another institution, except their doctoral dissertation. Concordia University welcomes all applicants who have achieved this status in their graduate education. We will help you achieve your goal and set you up for success. Now is the perfect time to finish earning your doctorate. Let us help!
How does it work?
As an incoming student, you can transfer up to 30 credits into the DBA program.
In addition, 30 credits will be needed to graduate - 24 credits through research courses to help you write your dissertation and 6 topical credits.
Collaborate with other DBA students in one four-day residency in either January or July of the year you begin.
Your faculty advisor will guide you through seven dissertation courses so you make consistent progress from day one.
Average length of completion is 1.5 year.
Upon dissertation completion, you will graduate with a Doctorate in Business Administration.
Find the information you need
We're here to help you discover your future
Faculty
Faculty are working, practicing experts who will help you grow your knowledge and your network.
Scholarships
$1000s in new scholarships exclusively for adult and post-traditional learners.
100% Online
All courses are offered online at any time of the year.
Funding your degree
Concordia's payment plan allows you to break tuition into automatic monthly payments
Scholarships and financial aid are available for qualifying students.
Digital Campus
Real Education
Experts in Online Education
You don't miss out on anything when you decide to pursue an online degree. At Concordia, your education is in the hands of dedicated, caring experts. Every step of the way.
Award-winning Online Programs
Online Student Success Advisors
Fully Online Classes
Over 20+ Years of Online Experience
Doctorate Degrees
Master's Degrees
Accelerated Undergraduate Degrees
Online or virtual? What's the difference?
Self-paced
Online Courses
Comfort of your own home
No assigned class times
8 week courses
Work at your own pace
Flexible course offerings
Instructor and Academic and Career Advisor support
Live instruction
Virtual Courses
Comfort of your own home
Assigned night of week
6 or 8 week courses
Attend class live via Zoom™
Live professor instruction
Live classmate interaction
Academic and Career Advisor and home Center support