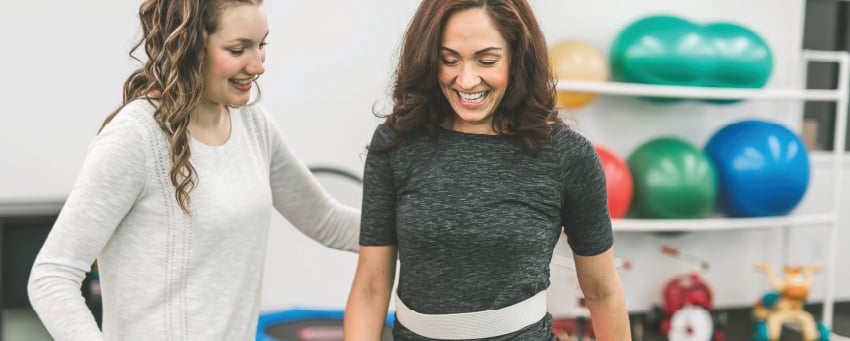 Occupational Therapy Programs
Wherever you're at in your journey into occupational therapy, Concordia University has options for you at both the undergraduate, master's, doctoral levels.
As a Christ-centered university, our program will help you advance in your calling, by learning from experienced therapists in a hands-on environment and developing a foundation in ethical leadership.
We offer the following programs in Occupational Therapy:
Master of Occupational Therapy

Accelerated track (for incoming freshmen)
Bridge track
Post-Baccalaureate track

Entry Level Doctorate of Occupational Therapy (OTDe)
OTA to OT Bridge Program
Bachelor's in Rehabilitation Science (BSRS)
Find the information you need
We are here to help you discover your future
Occupational therapy program pathways
The accelerated track is designed for college freshmen looking to pursue both a bachelor's and a graduate degree in OT in less than 5 years. (4.5 years for BSRS and MOT or 4.75 years for a BSRS and OTDe)
It is a full-time, blended format program with weekly online classwork, and in-person classes every Monday and Tuesday. Wednesdays must be reserved for interprofessional and departmental activities.

Students who begin their undergraduate career as a freshman in Concordia University Wisconsin's Bachelor of Science in Rehabilitation Science (BSRS) program may apply to the MOT program - Accelerated track during the fall of their sophomore year. A student accepted into the MOT program will begin taking graduate courses toward a degree in Occupational Therapy the summer after their sophomore year.

Interested high school students should apply to CUW for the BSRS program. Applicants must have a high school GPA of 3.2 and an ACT score of 21 and must apply and submit the tuition deposit prior to December 1st. Those who meet these requirements will be reviewed and ranked according to GPA and ACT scores. The top 30 applicants will receive guaranteed status for the MOT Program - Accelerated track. In order to maintain guaranteed status and to be accepted to the MOT/OTDe program, students must maintain a 3.0 GPA, earn a grade of B or higher in 8 credits of Anatomy & Physiology (BIO 191, BIO 192 and/or RSC 302) taken at CUW, and earn a grade of B or higher in 3 credits of Statistics.
Are you an Occupational Therapy Assistant (OTA) with your associate degree, and want to learn more on how to complete your bachelor's and matriculate into a master's or doctorate? You've come to the right place!
If you have an associate degree you can earn a BSRS and a graduate degree in Occupational Therapy in 4 years or less. (MOT in 3.75 years OTDe in 4 years) Students apply to the occupational therapy program in the fall of the BSRS year.
The OTA bridge track is designed for OTA's with at least one year of related work experience who are prepared to earn the MOT degree in 2.75 years or the OTDe in just over 3 years.
The bridge track is a full-time program that combines online learning with one on-campus weekend each month.
Applicants not holding a bachelor's degree should apply to the BSRS Bridge, which includes one year of coursework prior to the OT Program, and then apply to the OT program - Bridge Track.
Do you already have a bachelor's and are looking to move into the world of Occupational Therapy? This is the option for you.
The post-baccalaureate track is designed for those who already hold a bachelor's degree who are prepared to complete the MOT in 2.5 years or the OTDe in 2.75 years.
The post-baccalaureate track is a full-time, blended format program with weekly online classwork, and in-person classes every Thursday and Friday. Wednesdays must be reserved for interprofessional and departmental activities.
Graduate programs in OT
MOT
master of occupational therapy
At the conclusion of your second semester in the OT program, you will submit your intent to pursue either a master's in OT or a doctorate. The choice is yours. The master's track takes a little less time and doesn't require the additional 14-week capstone project, but you will graduate fully prepared to serve others holistically across their lifespan.
otde
entry-level doctorate in occupational therapy
After your first full year in any of our OT tracks, you will be able to decide if you would like to continue with a master's degree or enter the doctoral program. The OTDe requires an additional 10 credits from the master's degree, which includes a 14-week capstone experience. Full-time fieldwork experiences are designed to ensure you achieve the generalist competencies of the occupational therapy profession, preparing you for full-time work or to continue on and earn additional specializations.
Careers
OT: Pediatric
OT: Adult
OT: Safety
Faith based
We are committed to engaging your mind and spirit for service to Christ in the church and the world.
Preparing
Healthcare leaders
What makes us different?
Our goal is to prepare you as an outstanding occupational therapist, who will practice with excellence and integrity. We emphasize the importance of serving all clients with the best care possible. By combining classroom, laboratory, and supervised clinic-based instruction, our courses train you for a wide range of work settings.
Program features
Program blends the traditional classroom with a more progressive online environment.

Specialty courses in a variety of practice areas including pediatrics, neurorehabilitation, ergonomics, upper extremity rehabilitation, geriatrics, and health & wellness.

Active community partnerships including opportunities for pro-bono clinic practice, service learning and grant writing for program development.

Interdisciplinary Professional Education - o

ngoing collaboration between the

healthcare

faculty and students.

Liberal arts foundation prepares graduates to develop as well-rounded professionals.
State-of-the-art training facilities.
Students work with clients in the community early in their education.
Flexible learning options — face-to-face, online, or blended for most of our formats.
Frequently asked questions
All students are eligible to be reviewed for financial aid. Students will need to complete the FAFSA at studentaid.gov. Concordia's school code is: 003842.
• Students must take a minimum of three graduate credits per semester to qualify for financial aid
• Students may be eligible for up to $20,500 per academic year to cover educational related expenses
For more information on tuition costs please visit CUW's Financial Aid page here.
Our occupational therapy programs blend the traditional classroom with a more progressive online environment. Options include — face-to-face, online, or blended for most of our courses.
The OTDe track requires 10 additional credits, which includes a 14-week capstone experience
OTDe can be decided after the first full year in any of our tracks. After the first full year, students must submit a letter of intent to apply