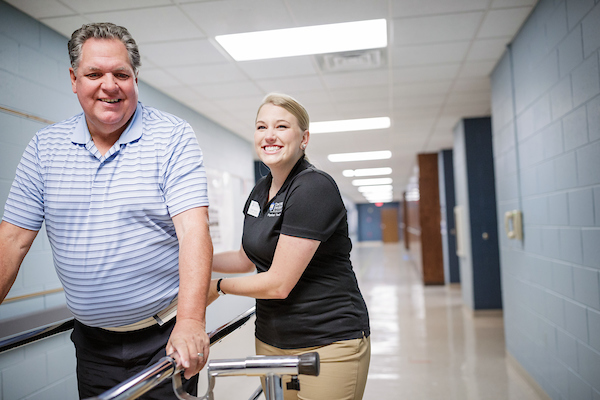 Physical Therapy Programs
Wherever you're at in your journey into physical therapy, Concordia University has options for you at both the undergraduate, and doctoral levels.
As a Christ-centered university, we are committed to developing health care professionals, by learning from experienced therapists in a hands-on environment and developing a foundation in ethical leadership.
Through this program, our faculty seek to foster personal growth in mind, body, and spirit for Christian service to the community.
We offer the following programs in Physical Therapy:
Doctorate in Physical Therapy (DPT)
Accelerated (DPT) with a Bachelor's in Rehabilitation Science (BSRS)
PTA to DPT Bridge Program
PTA to BSRS Program
Find the information you need
We're here to help you discover your future
Physical therapy program pathways
The accelerated admission option will allow students to complete the Doctor of Physical Therapy degree in six rather than seven years. The option will be open to students who matriculate as freshmen at the Concordia University Mequon campus and who take all their science prerequisite coursework on the Mequon campus.
If you decide to pursue admission through the accelerated process, you will receive a Bachelor of Science in Rehabilitation Science (BSRS) following completion of your fourth year of academic study at Concordia University.
Are you an Physical Therapy Assistant (PTA) with your associate degree, and want to learn more on how to complete your bachelor's and matriculate into a doctorate? You've come to the right place!
If you have an associate degree you can earn a Bachelor in Rehabilitation Science and a doctorate degree in Physical Therapy in 4 .5 years. Students apply to the physical therapy program in the fall of the BSRS year.
The PTA bridge track is designed for PTA's with at least one year of related work experience and a bachelor's degree who are prepared to earn the DPT degree in 3 years (114 credits).
The bridge track is a full-time program that combines online learning with one on-campus weekend each month.
Do you already have a bachelor's and are looking to move into the world of Physical Therapy? This is the option for you.
The post-baccalaureate track is designed for those who already hold a bachelor's degree who are prepared to complete the DPT in 3 years.
The DPT program is a three year, full-time
program that encompasses six semesters,
including three winterims and three summer
semesters, consisting of 122 total credit hours.
The majority of DPT courses are taught using a blended learning format to promote active learning.
Careers
Physical Therapist (PT)
Home Care PT
Pediatric PT
Faith based
We are committed to engaging your mind and spirit for service to Christ in the church and the world.
"As a graduate of CUW's DPT Program I am humbled by the amount of help and assistance that Concordia has provided for me over the past few years. Concordia truly fosters an exceptional Christian based learning environment that develops great clinicians and extraordinary individuals. I cannot recommend this school enough for the person it has made me and the available opportunity it has provided me with."
Meet our program director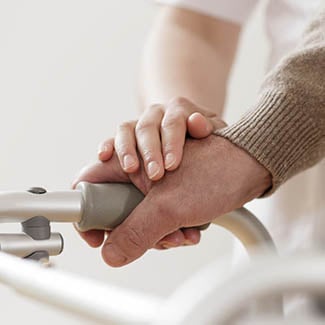 "I chose CUW's DPT program because it encourages students to develop character traits focused on becoming servant leaders in the physical therapy profession and community. The program's small class size and dedicated teaching staff has enabled me to develop life long relationships with my classmates and professors. I was blessed with the opportunity to travel to a different country with my colleagues to serve others with the physical therapy skills developed throughout the program. Concordia helped me grow into not only a respected health care professional, but a representative of Christ wherever I go."
Class of 2020
100%
first time pass rate on the licensure exam!
Why Concordia?
Our Christ-centered program emphasizes the principles of Christian service and leadership
100% first time pass rate for graduating classes of 2014, 2015, 2016, 2018, 2019 and 2020, and 96% first time pass rate for class of 2017 on national licensure exam
Small class and lab sizes allow for greater personal attention
Students work with faculty advisors to select clinical education experiences based upon professional goals, we do not use a "lottery system" to assign clinicals
34 total weeks of clinical education beginning in first year of the program
Clinical education takes place in a variety of settings including pediatrics, adult neurology, outpatient orthopedics, and adult acute care, to ensure graduates are prepared to serve a variety of patients

Inter-professional learning experiences with students from programs in occupational therapy, speech language pathology, pharmacy, physician assistant, nursing, social work, athletic training, and business administration
Preparing
Healthcare leaders
What makes us different?
Our goal is to prepare you as an outstanding physical therapist, who will practice with excellence and integrity. We emphasize the importance of serving all clients with the best care possible. By combining classroom, laboratory, and supervised clinic-based instruction, our courses train you for a wide range of work settings.
Frequently asked questions
All students are eligible to be reviewed for financial aid. Students will need to complete the FAFSA at studentaid.gov. Concordia's school code is: 003842.
• Students must take a minimum of three graduate credits per semester to qualify for financial aid
• Students may be eligible for up to $20,500 per academic year to cover educational related expenses
For more information on tuition costs please visit CUW's Financial Aid page here.
Our physical therapy programs blend the traditional classroom and clinicals with a more progressive online environment.
Concordia University Wisconsin is accredited by The Higher Learning Commission.
The Doctor of Physical Therapy program at Concordia University Wisconsin is accredited by the Commission on Accreditation in Physical Therapy Education (CAPTE), 3030 Potomac Ave., Suite 100, Alexandria, Virginia 22305-3085; telephone: 703-706-3245; email: accreditation@apta.org; website: http://www.capteonline.org. If needing to contact the program/institution directly, please call 262-243-4433 or email robert.barnhart@cuw.edu.
Graduation from a CAPTE-accredited program is required for eligibility to sit for the licensing exam, for which Concordia graduates have an overall first time pass rate of 100% in 2014, 2015, 2016, 2018 and 2019.
The program has determined that its curriculum meets the state educational requirements for licensure or certification in all states, the District of Colombia, Puerto Rico, and the U.S. Virgin Islands secondary to its accreditation by the Commission on Accreditation in Physical Therapy Education, based on the following:
CAPTE accreditation of a physical therapist or physical therapist assistant program satisfies state educational requirements in all states, the District of Columbia, Puerto Rico, and the U.S. Virgin Islands. Thus, students graduating from CAPTE-accredited physical therapist and physical therapist assistant education programs are eligible to take the National Physical Therapy Examination and apply for licensure in all states, the District of Columbia, Puerto Rico, and the U.S. Virgin Islands. For more information regarding state qualifications and licensure requirements, refer to the Federation of State Boards of Physical Therapy website at www.fsbpt.org.