Bachelor of Science in Rehabilitation Sciences
Bridge program for Physical Therapy Assistants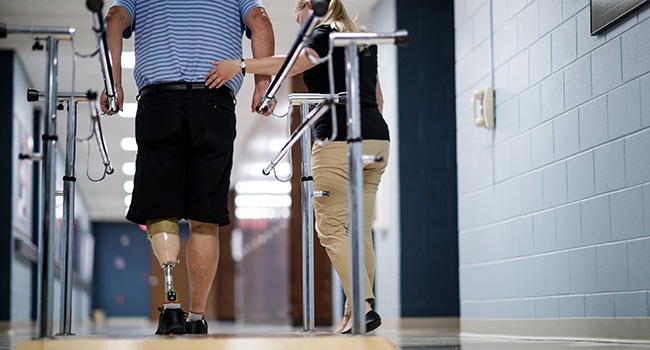 Advance your vocation to serve those in need
In the Bachelor of Rehab Science (BSRS) program, you'll benefit from the broad-based education that meets the prerequisites and prepares you to enter the Doctor of Physical Therapy (DPT) program. PTA's with an associates could earn a BSRS and DPT in 4.5 years.
In the DPT program, you'll receive the in-depth training for entry-level practice of physical therapy as a generalist clinician. You'll also explore not only the scientific underpinnings of this profession, but also the professional characteristics of a leader in health care.
Program features
Program path designed for Physical Therapist Assistants (PTAs) to earn a BSRS and DPT degree in 4.5 years

With this degree you will earn Bachelor of Science in Rehabilitation Science (BSRS) and apply to enter the Doctorate in Physical Therapy or another advanced degree

Courses offered online, and on campus one weekend per month (Fridays 12pm–9pm and Saturdays 8am–5pm)
State-of-the-art training facilities
The program format of online/weekend allows students to finish an undergraduate degree in Rehabilitation Science that includes the prerequisites for PT
Interdisciplinary Professional Education - o

ngoing collaboration between the

healthcare

faculty and students

Active community partnerships including
opportunities for pro-bono clinic practice, service
learning and grant writing for program development



Credits
64
Careers
Physical Therapist (PT)
Home Care PT
Pediatric PT
Faith Based
We are committed to engaging your mind and spirit for service to Christ in the church and the world.
What To Expect
Through the BSRS program you'll benefit from a scientific background, ethical training in medicine, and a thorough basis in the human body.
Your curriculum includes:
advanced anatomy and physiology
medical terminology
human development over a lifetime
mechanical principles that affect the human body