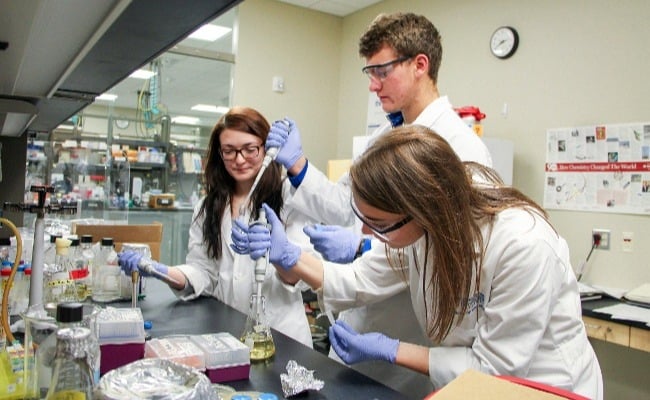 CUW School of Pharmacy
No matter where you're at in your journey into healthcare, Concordia's School of Pharmacy is prepared to build your skills, knowledge, and network during your time on campus, empowering you to enter the workforce as a confident and competent practitioner, ready for your dream career.
Active learning in our state-of-the-art laboratories and real-world practice experiences in both rural and urban healthcare settings will develop you into a qualified, caring, innovative, and servant-led pharmacist. Choose from our many program pathways:
Bachelor's
Master's
Doctorate
Bachelor's
Pharmaceutical sciences/Public health
Pharmacy school academics
A comprehensive and challenging curriculum that teaches pharmacy students
through classrooms, on-campus labs, and off-site practice experiences.
Didactic Courses
Engage in coursework that covers current and emerging pharmacy concepts to establish and increase your foundational knowledge.
Applied Patient Care labs
Individual, focused labs that develop your direct patient care skills, non-sterile compounding skills, and sterile compounding skills.
introductory pharmacy practice experiences (IPPE's)
Two-week rotations are required during your P1 and P2 years of pharmacy school. With an option to take more during your 3rd year to focus on specialized areas of pharmacy.
Advanced Pharmacy Practice Experiences (APPE's)
Participate in full-time site-based learning during your P4 year at a community pharmacy, inpatient acute care facility, hospital, and ambulatory care setting.
I felt very grateful for the way Concordia did IPPE's compared to other schools. The two-week rotations allowed us to fully engage in all activities on rotation and get a realistic feel for how it would be working that particular setting. There was no worrying about our academic responsibilities during this time.
Get the information you need
We're here to help you discover your future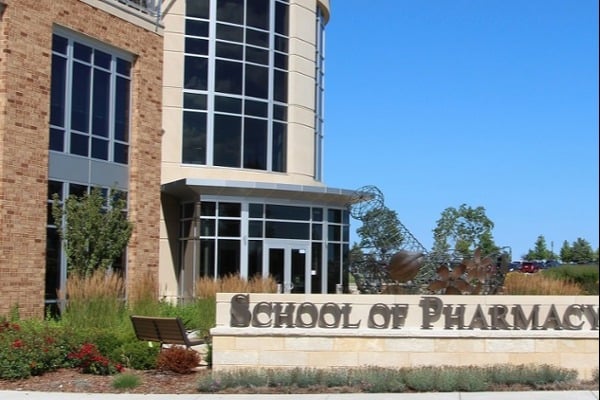 The best of both worlds at our campus
A perfect blend of rural and urban describes Concordia's 200-acre property on Lake Michigan in Mequon, WI. Located only 15 miles north of Milwaukee, there are plenty of professional and personal opportunities for students.
That means you have access to top-tier healthcare organizations and practicing pharmacists as you work to earn your PharmD degree. Participate in your pharmacy practice experiences and build your professional network at Advocate Aurora, Ascension, Froedtert, and other community hospitals and clinics.
Pharmacy school rankings
Higher than the national average
pharmacy residency match rates
88% of our PharmD 2022 graduates entering PGY-1 (postgraduate year one) were matched with their top choice for residency. A 9TH BEST MATCH RATE FOR U.S. PHARMACY SCHOOLS.
clinical knowledge test
north american pharmacist licensure examination (NAPLEX)
Our 2022 PharmD graduates scored in the Top 25% of the all pharmacy schools nationally.
From the moment I walked into the School of Pharmacy, I felt welcomed, appreciated and cared for. The faculty and staff truly cared for us, as students, and treated us as professional colleagues throughout the entire curriculum.
Funding your education
Concordia's payment plan allows you to break tuition into automatic monthly payments.
Scholarships and financial aid are available for qualifying students.
P1 students (1st year)
Academic merit scholarship available
for up to $14,000 per student.
P2-P4 students (2nd-4th years)
Various scholarships are available
for up to $10,000 per student.
We are ecstatic about our scholarships and the ability to help students with the monetary investment of attending pharmacy school. Our recruitment and admissions team not only works with students through the application process, we also work closely with students to guide them through the financial aid process
We accept transfer students
Concordia will enroll eligible transfer students in our PharmD program.
Add a graduate degree in public health or business
Choose to earn your master's in public health or your MBA with your Doctor of Pharmacy. This will enhance your knowledge beyond pharmacy and improve your career opportunities.
Students admitted to Concordia's School of Pharmacy are required to submit separate applications to each master's degree program. This can be completed before starting the PharmD program or during your P1 or P2 years of pharmacy school.
Detailed information on each pharmaceutical master's degree is shown below.
PharmD + Graduate Degree
The MBA program is flexible and can be taken online or in-person. The business curriculum provides a strong foundation to use quantitative and qualitative data to be an effective decision maker, strategist, and leader.
This is a (36) credit dual-degree program.
(16) credits apply to your PharmD (148 credits) and your MBA
(30) credits apply to your MBA
The MPH program is a 100% online. You will earn your master's with a concentration in Medication Safety and Pharmacovigilance. Utilize your expertise to improve health equity and health prevention through the use of medicines.
This is a (39) credit dual-degree program.
(12) credits apply to your PharmD (148 credits) and your MPH
(27) credits apply to your MPH
Master's Program
A 30-credit online program to earn your master's in natural product sciences.
Select the
medical cannabis
or the
nutraceuticals
concentration.
Get full program details here.
Certificate Program
A 12-credit online program in natural products science for healthcare providers. Select one of the concentrations and get information to better serve patients.
Get certificate details here.